Reading Time:
3
minutes
After exactly 2 years since the release of Windows Server 2016, Microsoft announced GA of Windows Server 2019, the next Long-Term Servicing release of Windows Server OS. Yeap, 2 years earlier than expected according to Microsoft's official release cycle.
Back in September 2016 along with GA of Windows Server 2016, two new Servicing Channels were introduced, the Long-Term Servicing Branch and the Current Branch For Business. The Long-Term Servicing Branch was intended for customers who are used to enjoy new releases of Server OS every 3 years and support for 10 years. While Current Branch for Business is targeting users and companies who are in the "Fast Track" and keen on moving forward and enjoying new releases every 6 months with a servicing life cycle of 18 months.
Things changed a bit during the next months, the new servicing channels got a new name ( LTSB to LTSC and CBB to SAC) and aligned their release cycle with other Microsoft Products.
Windows Server 2019 comes with the same Servicing Channels as it's predecessor. The new SAC release comes under the name Windows Server 1809.
What about this so-called promising new Installation option, the Nano Server? Nano Server is not anymore an Installation option for the LTSC release of Windows Server 2019. On June 2017, Microsoft announced that Nano Server is not anymore a supported option for Infrastructure purposes/roles. We all knew by that time where this was going, as a lightweight OS to build cloud-native apps and containers.
What about the available editions of Window Server 2019? Did anything change since the previous release? Well, a bit yesh. The Storage Server Editions are not anymore an option. RIP dear beloved Editions.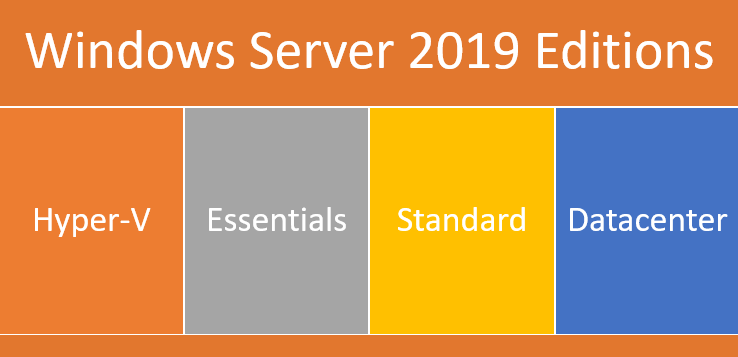 What about Licensing?
Nothing new here, same as Windows Server 2016. If you are not aware of what was changed with licensing in Windows Server 2016, please use the following guide to learn more about it.
What are the available Installation Options?
For the LTSC release we have the available installation options:
While for the SAC release:
Where did the RTM release go?
Well for the first time, RTM release was skipped and went straight to GA. Let's hear about what the Windows Server Program Team said about this.
Windows Server 2019 is the first version to skip the classic Release To Manufacturing (RTM) milestone and go directly to General Availability (GA). This change is motivated by the increasing popularity of virtual machines, containers, and deploying in the cloud. But it also means the hardware ecosystem hasn't had the chance to validate and certify systems or components before the release; instead, they start doing so today.

Cosmos Darwin, Program Manager.
Thanks for reading!